Are you ready to build the perfect deck? Whether its for entertaining guests or just a place to relax and enjoy the outdoors, crafting your own outdoor oasis can be an exciting and rewarding experience. With the right tips and tricks, creating a beautiful deck is easier than ever before.
In this article, we will explore everything from design ideas to construction techniques so that you can make your dream deck come alive. So grab your tools and materials – lets get started! And if you have some further questions, be sure to ask professionals at https://decksforlife.ca/.
Planning for Success: What to Consider Before Building a Deck
Building a deck can be an exciting and rewarding experience, but it's important to take the time to plan for success. From selecting materials that fit your budget and lifestyle to finding the perfect spot in your backyard, there are several factors you should consider before starting construction. Begin by determining what size deck will best suit your needs – bigger is not always better!
You must also decide which type of material you prefer – wood or composite? Additionally, make sure to check local building codes and obtain required permits before getting started. To ensure lasting quality, select fasteners that are corrosion resistant and use treated lumber with a high-quality stain or sealant for protection against outdoor elements. Finally, create a design that reflects both form and function while staying within your budget; dont forget about safety features like railings or staircases either! With careful planning ahead of time, youll be ready to build the perfect deck for all seasons.
Maximizing Your Space: Design Ideas for Making the Most of Your Deck Area
Decks are a great way to make the most of your outdoor space. With the right design, you can create an inviting and cozy atmosphere that will be enjoyed by all who come to visit. Here are some tips and tricks for maximizing your deck area with creative design ideas:
Make Use of Multi-Level Decks – Create multiple levels for your deck to add visual interest and define separate areas within one large space. This will help maximize your square footage without compromising on style or comfort.
Utilize Built-In Seating – Not only does built-in seating provide additional seating options, but it also adds architectural interest as well as a natural boundary between different sections of the space.
Incorporate Vertical Elements – Incorporating vertical elements such as plants, planters, trellises or even light fixtures can help draw attention up towards the sky while adding dimensionality to your overall aesthetic in addition to creating more usable floor space below them!
Try Out Different Materials – Mixing various materials like wood, stone and tile will give you an interesting look that is both eye catching and unique at the same time!
Add Storage Solutions – Maximize storage solutions by utilizing furniture pieces that double as storage spaces such as benches with lids or sofas with hidden compartments underneath them!
Take Advantage Of Small Spaces– Even small spaces can be turned into useful areas when designed correctly—think about built-in window boxes or corner plant beds which could bring life into otherwise forgotten places on a deck area!
Materials and Finishes: Selecting the Right Options for Long-Lasting Durability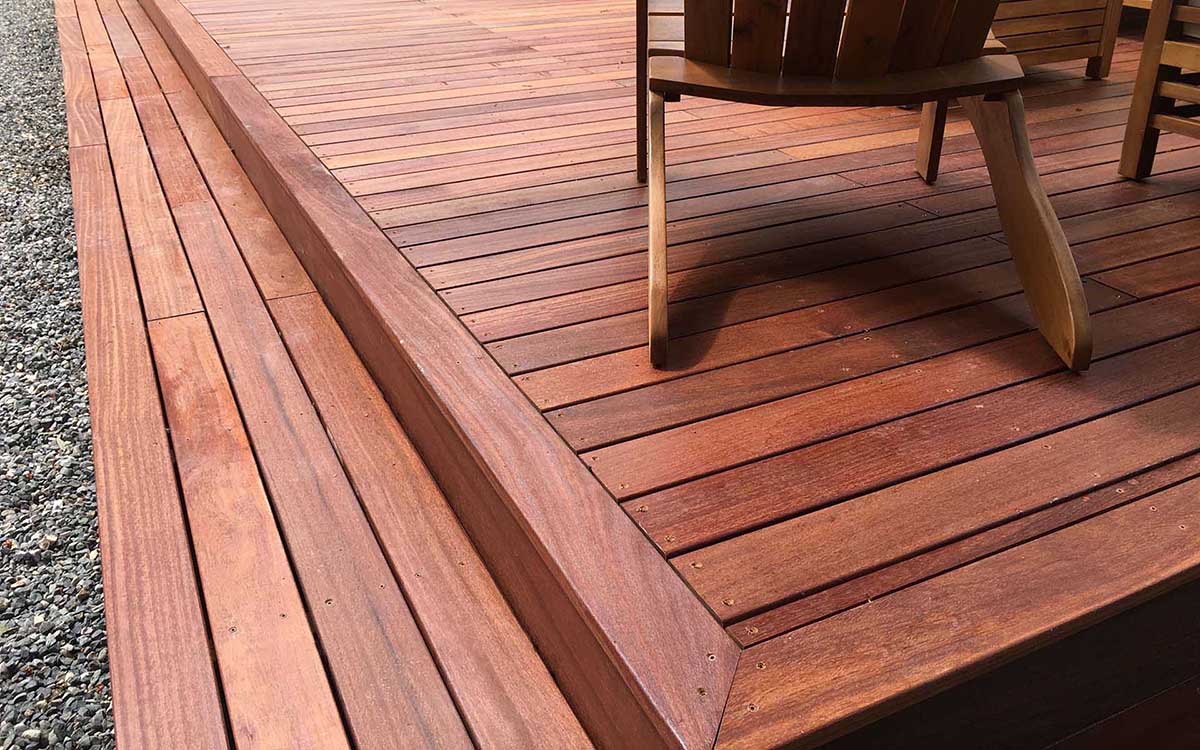 When selecting materials and finishes for your deck, it is important to choose options that will ensure long-lasting durability. A wide variety of materials are available in the market today, each with its own unique set of characteristics and benefits. Whether you select hardwood or composite boards, aluminum railings or vinyl fencing, there is an option to suit any style and budget.
It is important to consider how the material will respond to weather changes over time as well as its resistance against fading or rot due to moisture exposure. Additionally, some finishes require more maintenance than others; for instance, oil-based stains tend to provide a richer finish but need frequent re-application whereas water-based stain may be easier to apply but does not provide such intense coloration. Taking these factors into consideration can help you find the perfect balance between aesthetic appeal and practicality when building your new deck.