In today's digital age, Zoom group sessions have become a popular way for people to connect and collaborate. As the saying goes, "A picture is worth a thousand words" – when it comes to effectively presenting in these online meetings, visual aids are an invaluable resource. Visual aids can be used not only to engage the audience but also to help them better understand complex information quickly and easily. This article will provide tips on how best to make use of visual aids during Zoom group sessions to create engaging presentations that get your point across clearly and concisely.
Benefits of Using Visual Aids During Online Meetings
The use of visual aids during online meetings is a powerful way to engage participants, support key points, and add interest to the presentation. Visuals are an effective way to provide ideas quickly, with less talk time than it would take to explain something in words alone. From graphs and diagrams that illustrate data points, to images and videos that help bring stories alive or demonstrate principles more effectively, visuals can be used creatively in virtual sessions. Using visual aids helps keep attendees focused on the topic at hand by providing additional information that breaks up long passages of text or monologues.
While some people may struggle with concentration while participating remotely, visuals give everyone the chance to absorb information quickly through different media types. This ensures everyone remains engaged even during longer presentations that might otherwise become tedious without any interactive elements involved. Visuals also add an element of surprise which can break up a session nicely; for example, if you're talking about trends in your industry, showing a video clip demonstrating how those trends have developed over recent years will spark conversation and encourage deeper engagement from all members present.
Additionally using images as part of storytelling exercises gives participants more interesting ways to explore complex topics – much easier than trying to imagine perfect scenarios just from reading someone's description! In summary, using visual aids during online meetings has multiple benefits: they help participants stay engaged throughout; they make it easier for them to understand complex topics; they offer creative ways for exploring difficult subjects; and most importantly they allow presenters to engage methods for getting their message across – making sure every attendee gets the best out of each session!
Choosing the Right Visual Aid for Your Presentation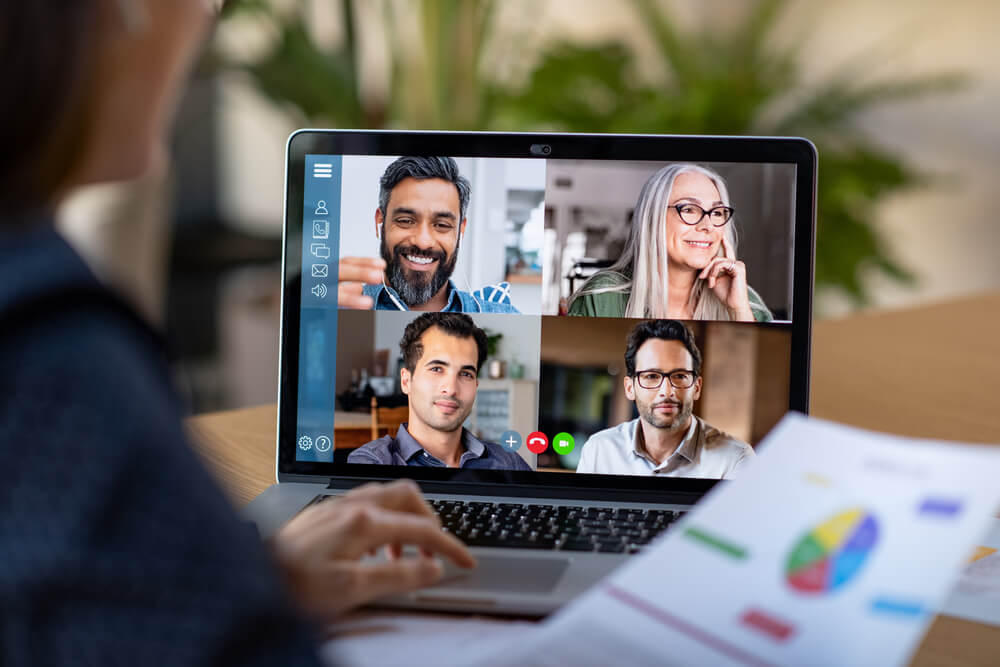 When it comes to choosing the right visual aid for a Zoom group session presentation, there are several factors to consider.
First, it's important to keep in mind that visuals should be kept simple and focus on what you want your audience to take away from the presentation. Using too many complicated visuals can make it hard for your audience to follow along or understand the points you're trying to make.
Second, when selecting a visual aid, try and think about how best you can use color and text to emphasize key ideas or messages within your presentation.
Thirdly, remember that visuals should complement but not replace verbal communication – they should help explain or illustrate concepts rather than simply act as stand-alone graphics or illustrations.
Finally, don't forget that visuals are also an excellent way of engaging with participants during a Zoom session – so choose something interesting which will capture their attention!
Tips on Effectively Utilizing Visual Aids with Zoom
Leverage Visual Aids to Facilitate Discussion: Visual aids can be a great way to facilitate discussion in Zoom group sessions. Use images, diagrams, and charts to illustrate key points and engage participants in engaging conversations about the topics discussed during your presentation.
Make Use of High-Quality Graphics: For visual aids to have the maximum impact on your audience, use high-quality graphics that are easy for everyone to understand quickly and accurately at a glance. Choose visuals that are simple yet informative so they don't distract or confuse viewers but instead, help them comprehend what youre presenting more easily.
Utilize Different Types of Visuals: Don't limit yourself to just one type of visual aid; mix up the types you use depending on what works best with each topic or point you want to make during your presentation. Consider using tables or graphs when discussing data-heavy topics, infographics when summarizing complex concepts, and videos or animations if available for demonstrating how something works or looks in practice.
Keep it Short & Sweet: Remember – less is more! To keep from overwhelming viewers with too many visuals all at once, select only those which will be most helpful for helping presenters communicate their ideas effectively without overloading viewers' attention spans with irrelevant information.
How to Maximize the Impact of Visual Aids in a Group Setting
In group settings, utilizing visual aids has the potential to maximize impact and engagement. When incorporating visuals into a presentation, several key strategies can be used to ensure optimal effectiveness. Firstly, it is important to consider how visuals work together with the spoken aspects of your presentation. It is best practice to use visuals as a supplement or accompaniment for what you are saying rather than a replacement for verbal communication; this will help create an immersive experience for participants.
Additionally, using visuals in combination with audio can help draw attention more effectively than either one on its own. Secondly, when selecting visual aids carefully think about their purpose within the context of your presentation: what do these images or videos convey? Are they creating emphasis or adding detail? A good rule of thumb is that if an image isn't necessary to aid understanding then avoid including it altogether – too much clutter can hurt engagement levels!
Thirdly and finally, ensure that all visuals were chosen fit well within the group's current setting – whether that means taking into account different screen sizes/aspect ratios or ensuring appropriate color contrast depending upon lighting conditions, etc., making sure everyone in attendance gets clear viewings of all content makes an enormous difference! Keeping these tips in mind when involving visual aids during Zoom Group Sessions will enable presenters to get more out of their presentations and increase overall engagement from attendees.
Conclusion
The use of visual aids in Zoom Group Sessions is an effective way to engage and captivate audience members during presentations. Presenters can benefit from using visuals, as they can create a more interactive environment for viewers, help to better illustrate key points, and provide additional context about the topic at hand.
By utilizing visuals effectively, presenters have the opportunity to demonstrate their knowledge of a subject matter while also building a connection with those who are attending their session. With these tips in mind, presenters will be well-equipped to make the most out of virtual group sessions on Zoom and deliver successful presentations that leave audiences informed and inspired.